About
I'm Matt Lawson, a passionate Front-end Developer based in Bristol. I'm a dad of two awesome kids, an avid mountain biker and occasional photographer.
I specialise in crafting accessible HTML, CSS and JavaScript, but I often dabble in other areas along the way. I've worked with a variety of clients including the BBC, Virgin Money and Innovate UK, delivering work that ranged from front-end development to accessibility training and consultancy.
I've been a part of teams delivering User-Centred Design (UCD) projects for almost 10 years, adopting suitable software development methodologies including Agile frameworks and the Government Service Design Manual.
Knowledge and skills
A relative view of my knowledge areas

| Knowledge area | Relative rating |
| --- | --- |
| Front-end | 8 |
| JS frameworks | 5 |
| Back-end | 4 |
| DevOps | 4 |
| Design | 5 |
| UX | 5 |
| Accessibility | 8 |
Working as part of a multi-disciplined team in UCD projects has allowed me to expand my knowledge into related fields such as User Experience, Back-end Development and DevOps. Activities have ranged from stakeholder interviews to user testing. Content modelling to Continuous Integration (CI).
My experience has allowed me to shape the approach of front-end development for internal teams. I've also helped to identify new opportunities and emerging technologies to improve workflow.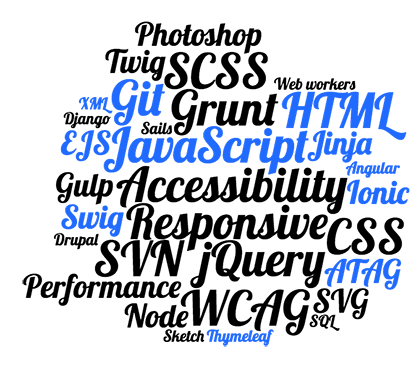 I've worked on a wide range of projects that has allowed me to continuously level up my core skills in front-end development. This includes:
Producing standards compliant, cross-browser compatible, Level-AAA accessible HTML, CSS/SCSS and JavaScript;
Integrating templates and maintaining code in various systems using Twig, Jinja, Thymeleaf and other templating engines;
Architecting responsive sites and embracing CI to build, test and deploy systems based on PHP, Django, Java and more;
Carrying out accessibility audits, training and consultancy for clients in both the public and private sector;
Utilising a wide range of related tools to aid my development including Git, SVN, Grunt, Gulp, Yeoman, Browserify and many more.
Recommendations
I've had the privilege of working with some talented people during my career. Here are some of the nice things they've had to say about me:
Matt is a highly skilled and experienced front-end developer. He has expert knowledge and understanding of web standards and accessibility. He is a fantastic role model and mentor for other developers and he goes above and beyond to get the job done. Matt is an asset to any team and he's been an absolute pleasure to work with.
Matt, is a remarkable front-end developer, thoroughness in his work ethic, out of the box thinking and high quality standard of work. It was a pleasure working with him and I do hope we will work together again.
Get in touch
If you want to contact me, these are the best ways of getting in touch: